50 x 20kg (1 tonne) Triple Heat Coal
TRI120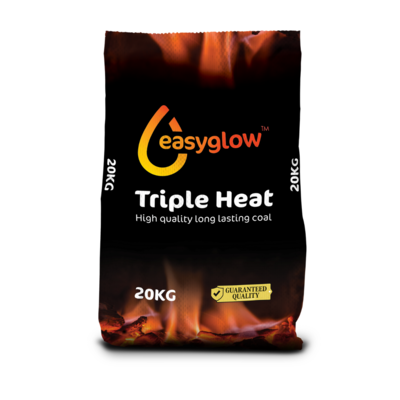 Triple Heat (not for Smokeless Zones)
Order your coal before midday for fastest delivery
High quality coal, long lasting with a great heat output. Very popular fuel outside of cities in Ireland and Northern Ireland, We pride ourselves on giving you the BEST PRICE and don't forget FAST DELIVERY Island Wide.
Consistent quality
Large orange flame
Suitable for stoves and open fires
Not permitted to burn in Smokeless Zones
We work with several couriers to ensure you get the most competitive rates, so delivery times do vary. Deliver time in Ireland, both north and south take between next business day up to 4 business days.

EasyGlow deliver your coal anywhere in Ireland, our Courier's make every effort to deliver as close as possible, but if access is poor or unsafe for the couriers truck they will do a kerbside delivery. Courier's deliver to your house or store but it is NOT the delivery drivers responsibility to stack your fuel inside the store or bunker. Remember you are receiving 50 x 20kg bags of the finest coal, you may need help!

Delivery will take on average two to four working days, in times of peak demand or snow and frost this could take a little longer.