50x20Kg Smokeless Coal Ovoids, Large for Cookers
SL-LGE50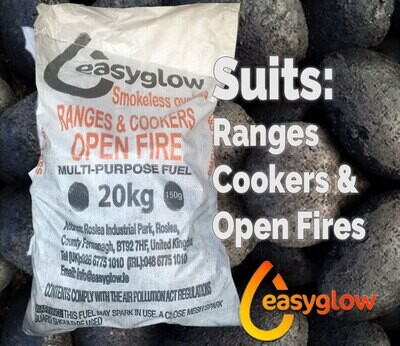 Stove - Smokeless
Large Coal Ovoids for COOKERS - Fast Delivery
Order you coal before midday for fastest delivery
Which size Ovoid? we hear you ask. These Large Ovoids are more suited to the Solid fuel cooker. Most of these cookers have closed fronts, where the flame is not seen, Most of these COOKERS would have lids.
Our Smokeless Stove Fire ovoids are manufactured using a combination of Anthracite, Petroleum Coke, using the highest quality coal fines, blended to our unique formulation we deliver a product with a high heat output, burning longer but with low ash content when compared to household coal.
Due to the high burning temperature, our smokeless ovoids will have a cleaning effect on your back boiler and your flue
We work with several couriers so delivery times vary. Deliver time in Ireland, both north and south take between next business day up to 4 business days.